Regular price
€4.490,00 EUR
Regular price
Sale price
€4.490,00 EUR
Unit price
per
Sale
Sold out
In stock
Dining Pool Table

Handcrafted Quality

FREE Accessory Kit
🚚 Estimated delivery within 3 weeks
Description

Versatile and Space-Saving Dining Experience

Upgrade your dining area with our

Conver-Table

, a stylish and practical addition to your home.

This innovative table seamlessly transforms from a dining table to a professional-grade billiard table, providing endless entertainment options for you and your loved ones.

Authentic Billiard Experience at Home

Immerse yourself in the excitement of billiards without leaving the comfort of your home. Our Conver-Table features regulation dimensions, ensuring an authentic playing experience.

The sturdy construction ensures stability, even during intense games, allowing you to fully enjoy every shot with confidence.

Space-saving design for modern living

Maximize your living space with our convertible table ingenious design. This multifunctional table eliminates the need to choose between a dining table and a billiard table.

When not in use, simply convert it back to a stylish dining table, instantly reclaiming valuable floor space. It's perfect for apartments or homes where space is at a premium.


Quality craftsmanship and durability

Crafted with meticulous attention to detail, our Conver-Table boasts exceptional craftsmanship and durability.

The high-quality materials used ensure long-lasting performance, allowing you to enjoy countless family gatherings and game nights for years to come.

Complete Billiard Experience in One Package

Our Conver-Table arrives complete with everything you need for a thrilling billiard experience. 

Set of Aramith Premier Standard
• 1 bottle of Aramith ball cleaner
• 1 Aramith micro fibre cloth
• 1 wooden triangle


Cues and related items
• 4 two-piece billiard cues to be screwed together
• 1 two-piece bridge stick to be screwed together
• 1 bridge head
• 1 6-cue rack
• 1 cue repair kit
• 4 Aramith chalks


Other accessories
• 1 table brush
• 1 rule book

Convenient Delivery and Customer Satisfaction

We understand the importance of convenient delivery and customer satisfaction. Our convertible table is carefully packaged to ensure it arrives in perfect condition. We strive to provide exceptional service, addressing any concerns promptly and offering solutions to guarantee your satisfaction.

Join the many satisfied customers who have upgraded their homes with our Conver-Table.

Transform your dining area with our Conver-Table, a versatile and space-saving solution that seamlessly combines a dining table and a high-quality billiard table. Make the most of limited space, and relish in the convenience of a complete billiard package.

Upgrade your home with Conver-Table and embark on endless hours of entertainment.

 
Shipping & Assembly Information

Shipping

Please use our Shipping Calculator during checkout for accurate shipping rates.
Price includes packaging, handling of the palet on the truck and unloading of the pallet on appointment at your delivery address, excluding import-taxes, associated with shipping your goods.

Pay attention we can settle a delivery date but it is impossible for us to fix a delivery time. You should be at the delivery place the whole day to avoid troubles. The goods are dropped off on the ground floor in front of the delivery address. At least 2 people are necessary to carry the elements of the table, the heaviest box weighing 105 kgs (one-piece slate).

Saluc sa won't be responsible for potential delivery delays due to the forwarder management.

A link will be sent to you to track the shipment on the roads.

Assembly
The assembly of the table can be carried out by two people without any particular skill, with a few standard tools (wrenches, screwdriver). Very simple, it takes place in a few steps in about an hour.
Dimensions

Design and Flexibility like never before

MINIMUM ROOM DIMENSIONS :

420 cm x 325 cm

OPTIMAL ROOM DIMENSIONS :
485 cm x 390 cm
View full details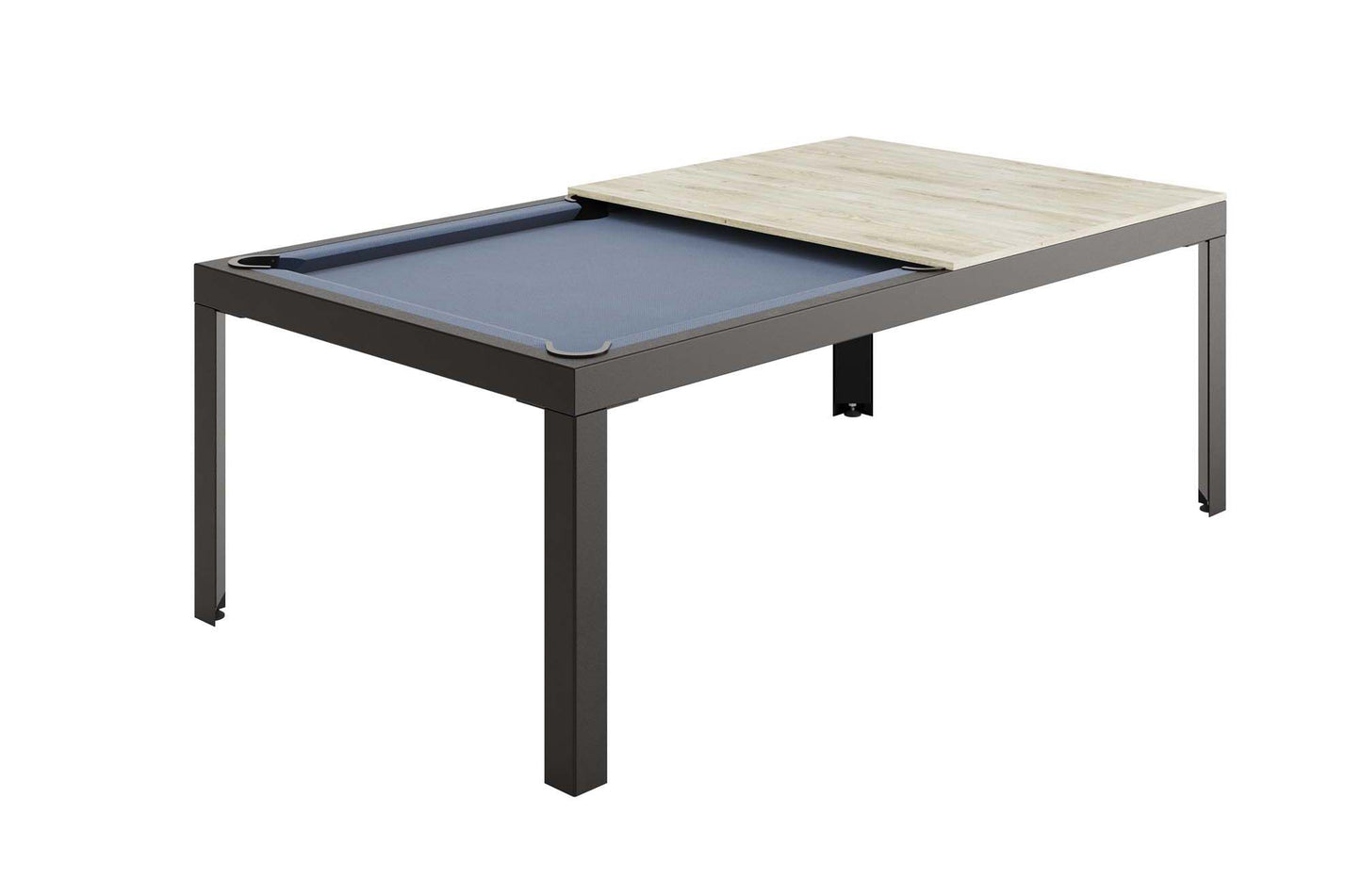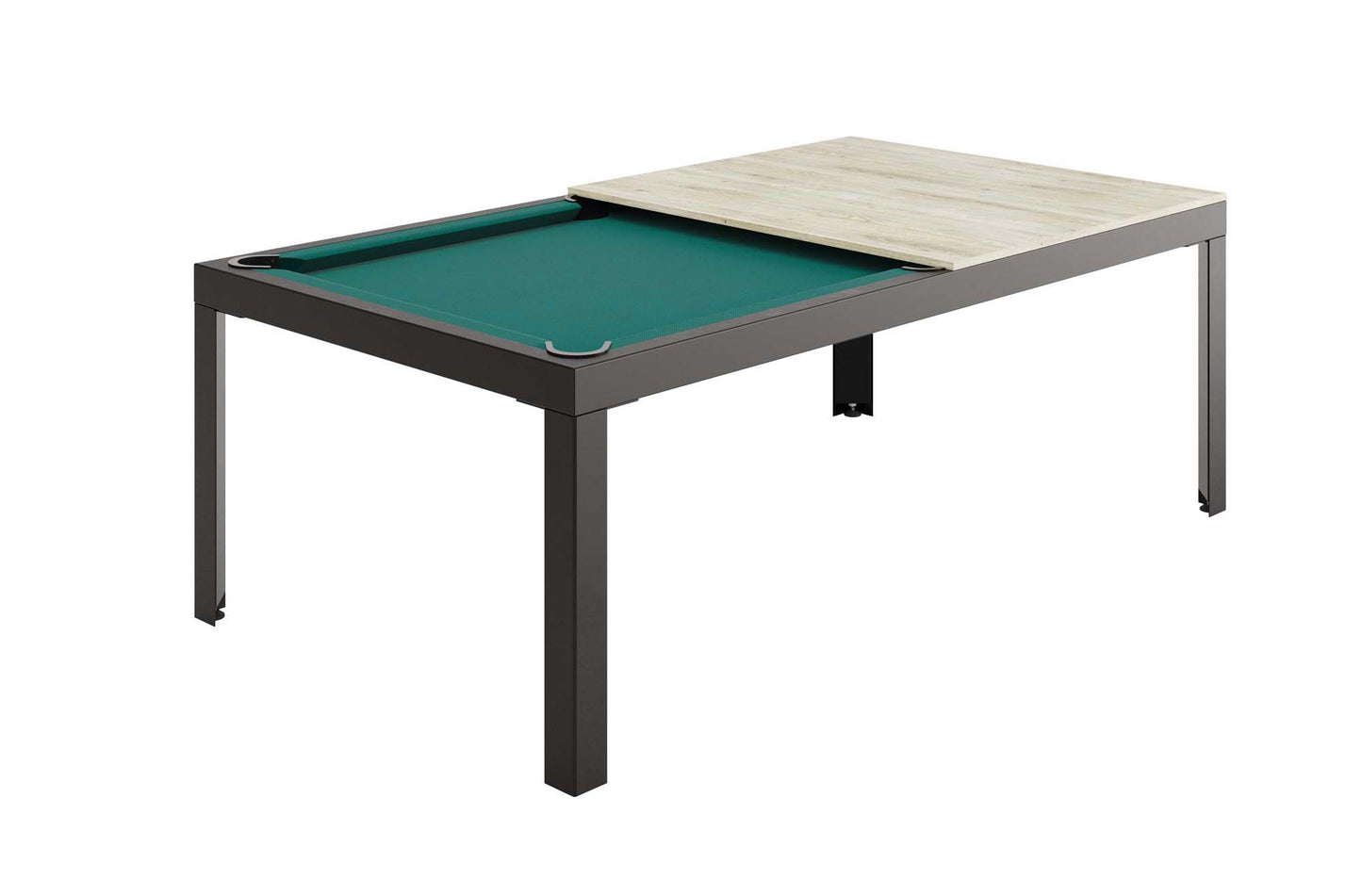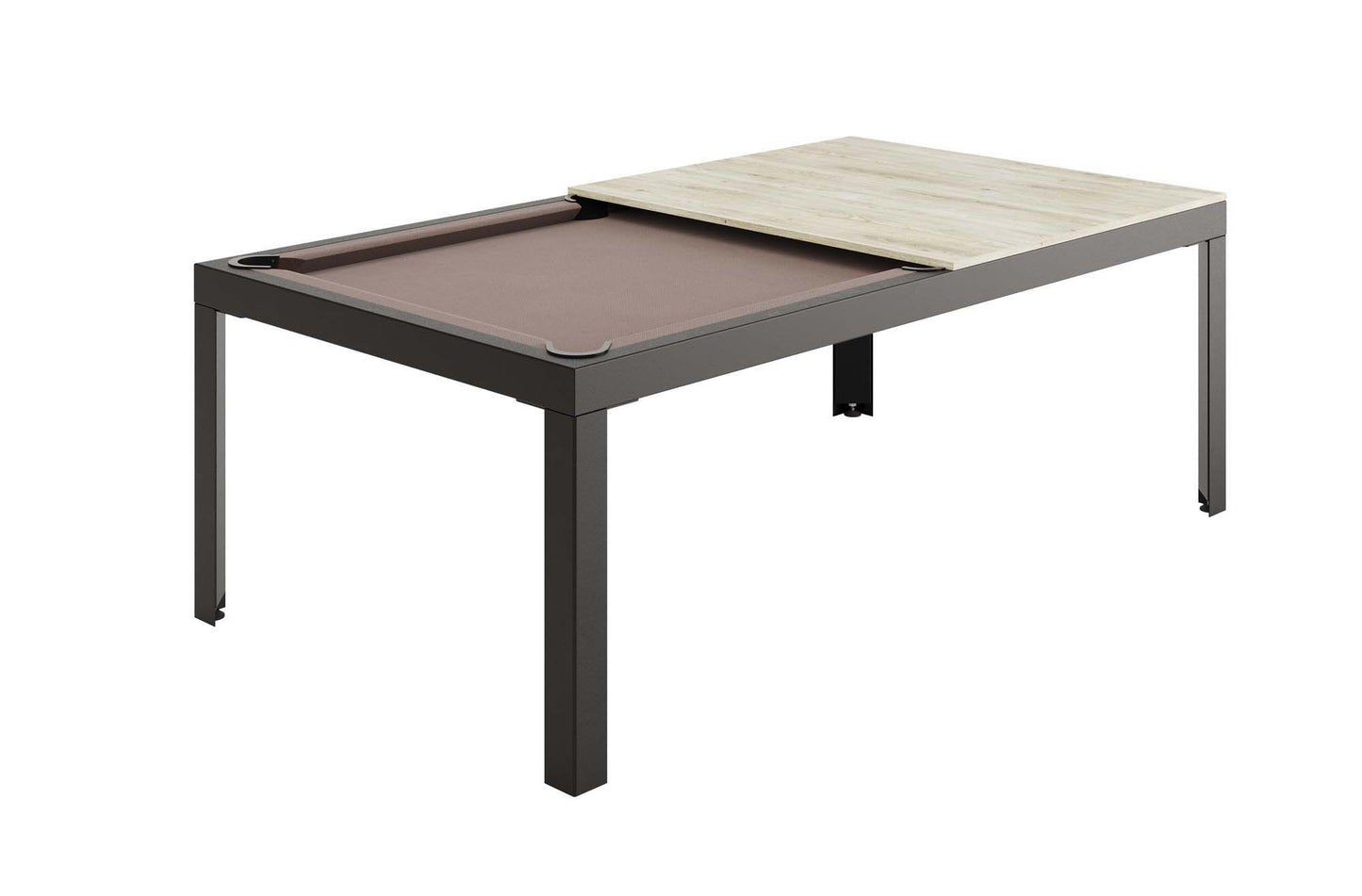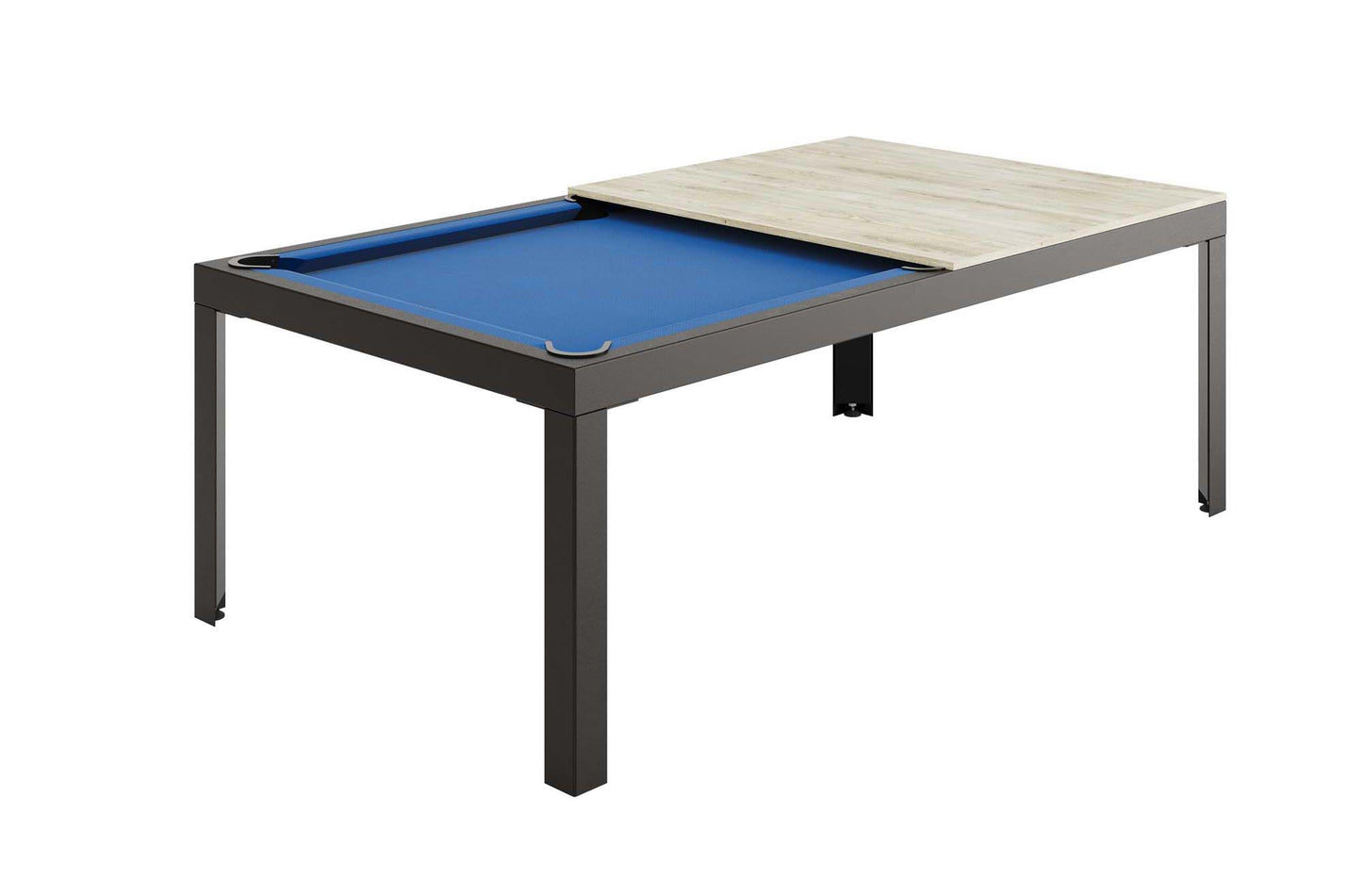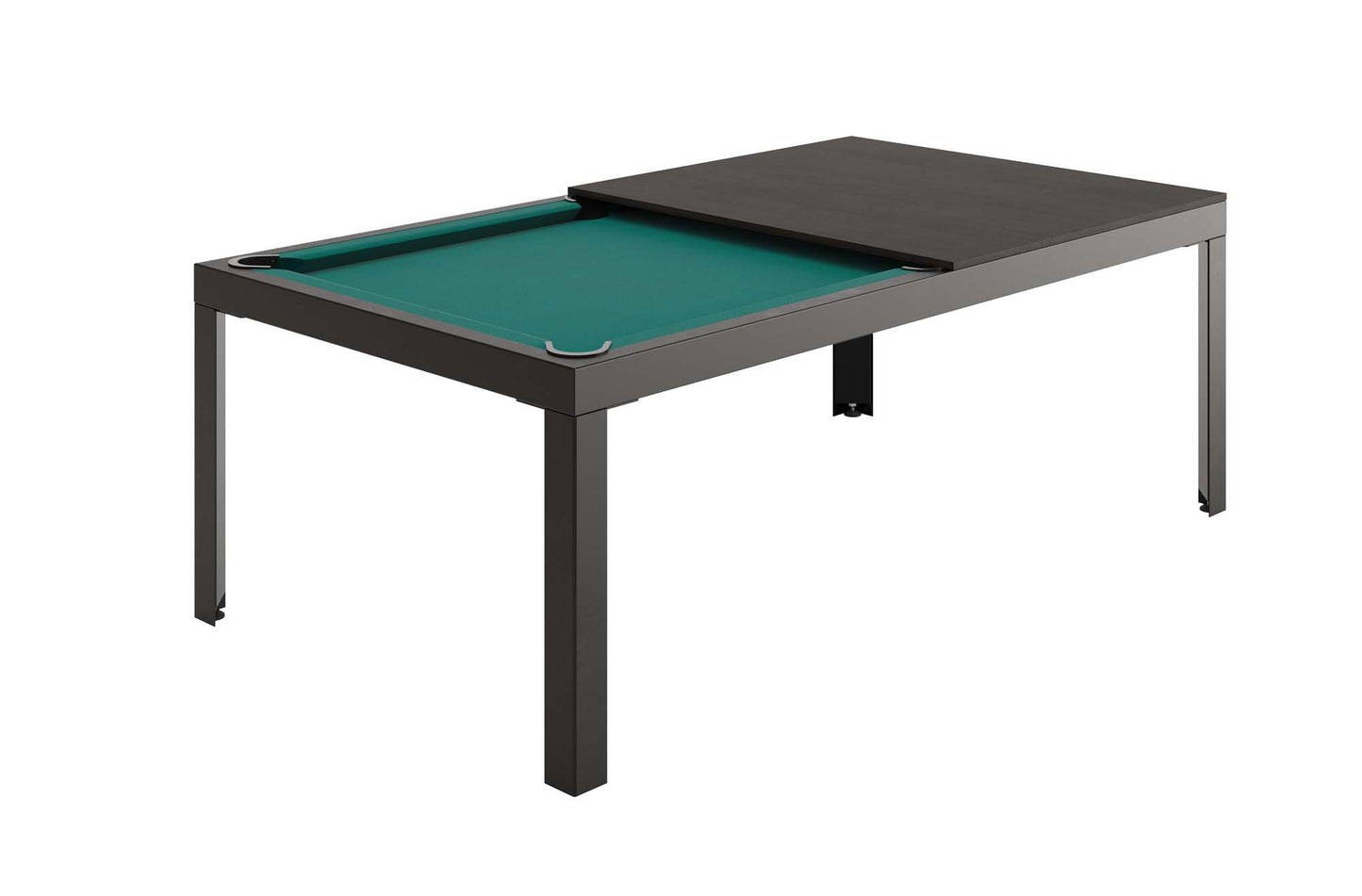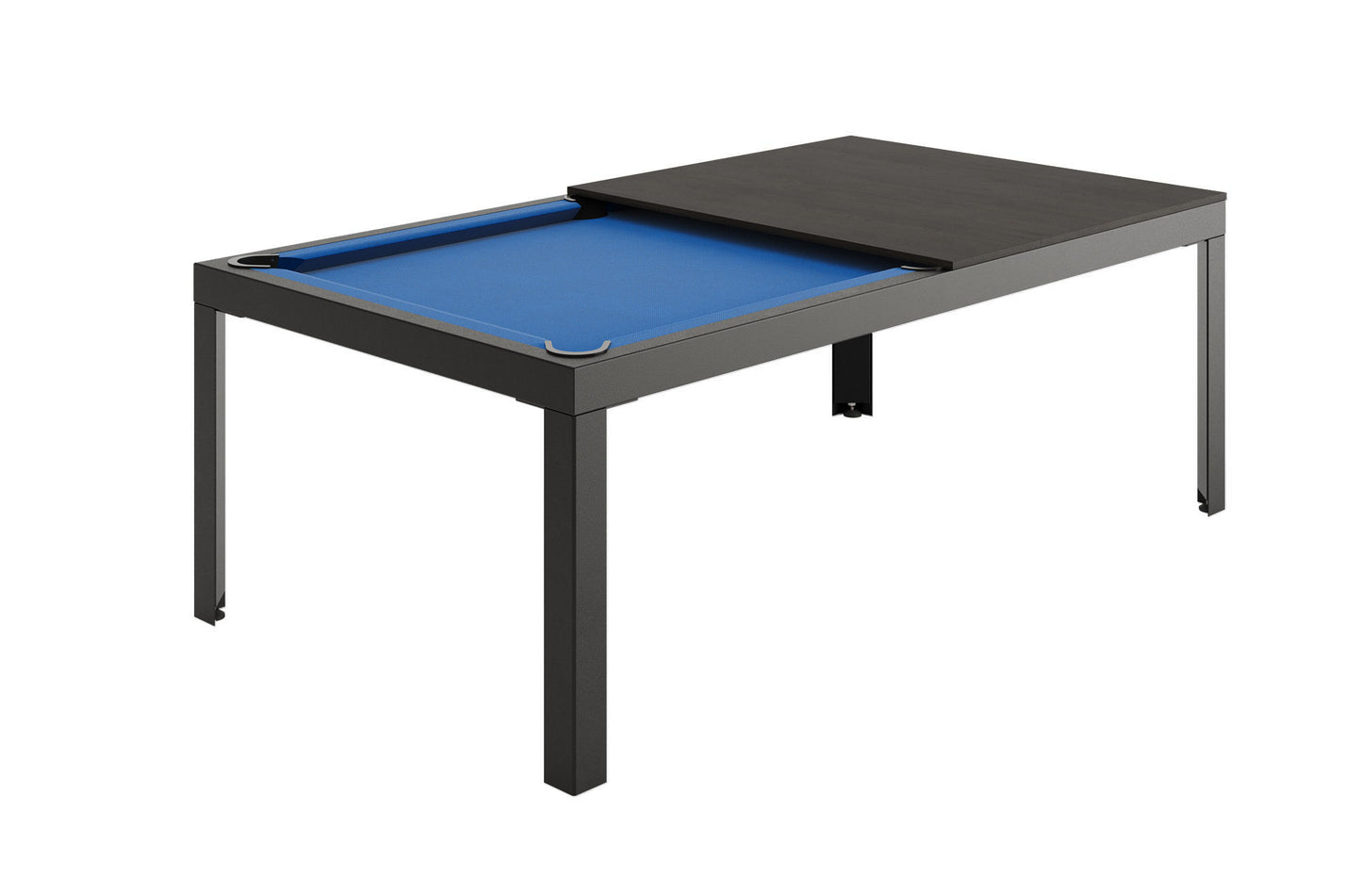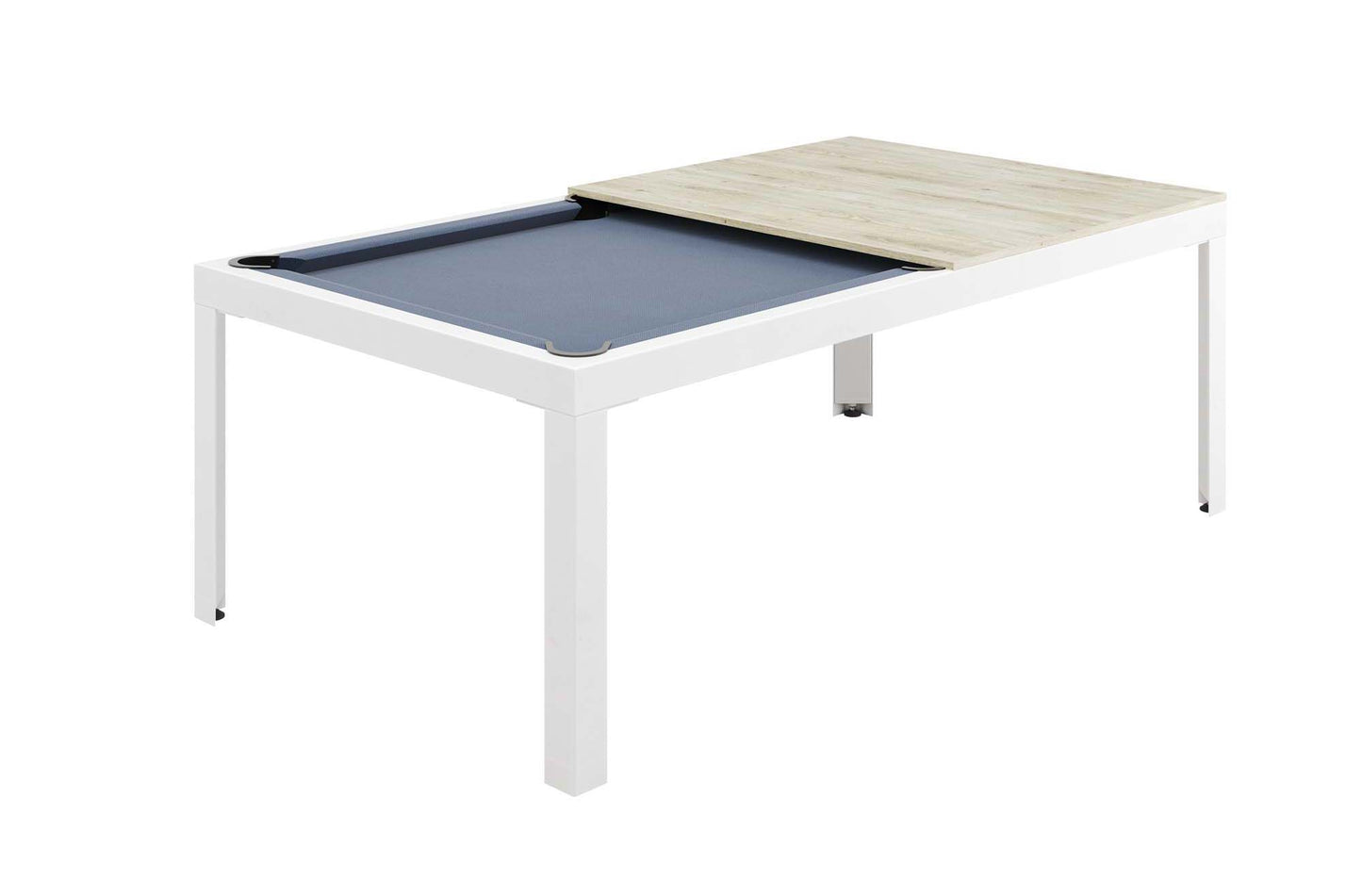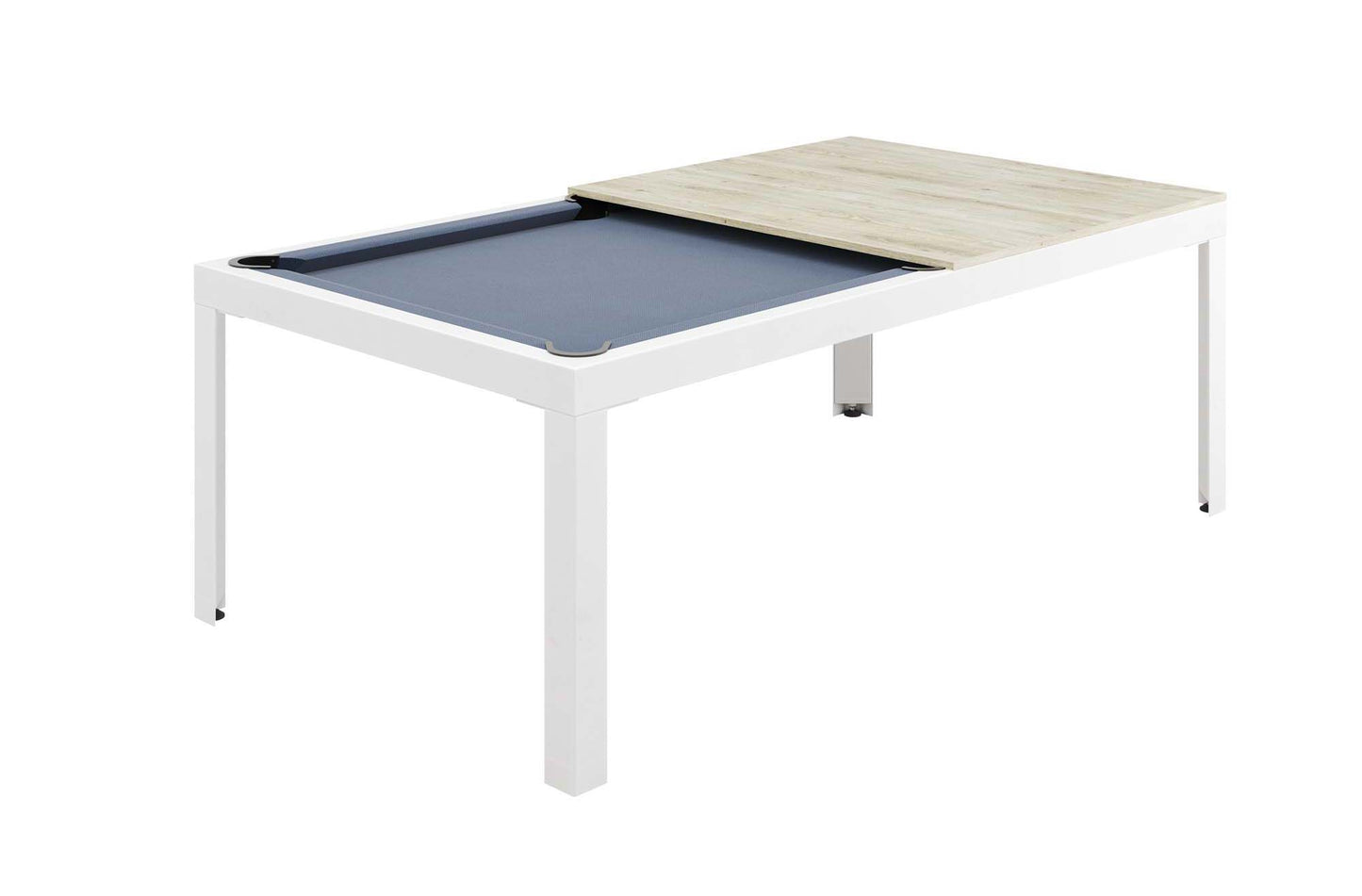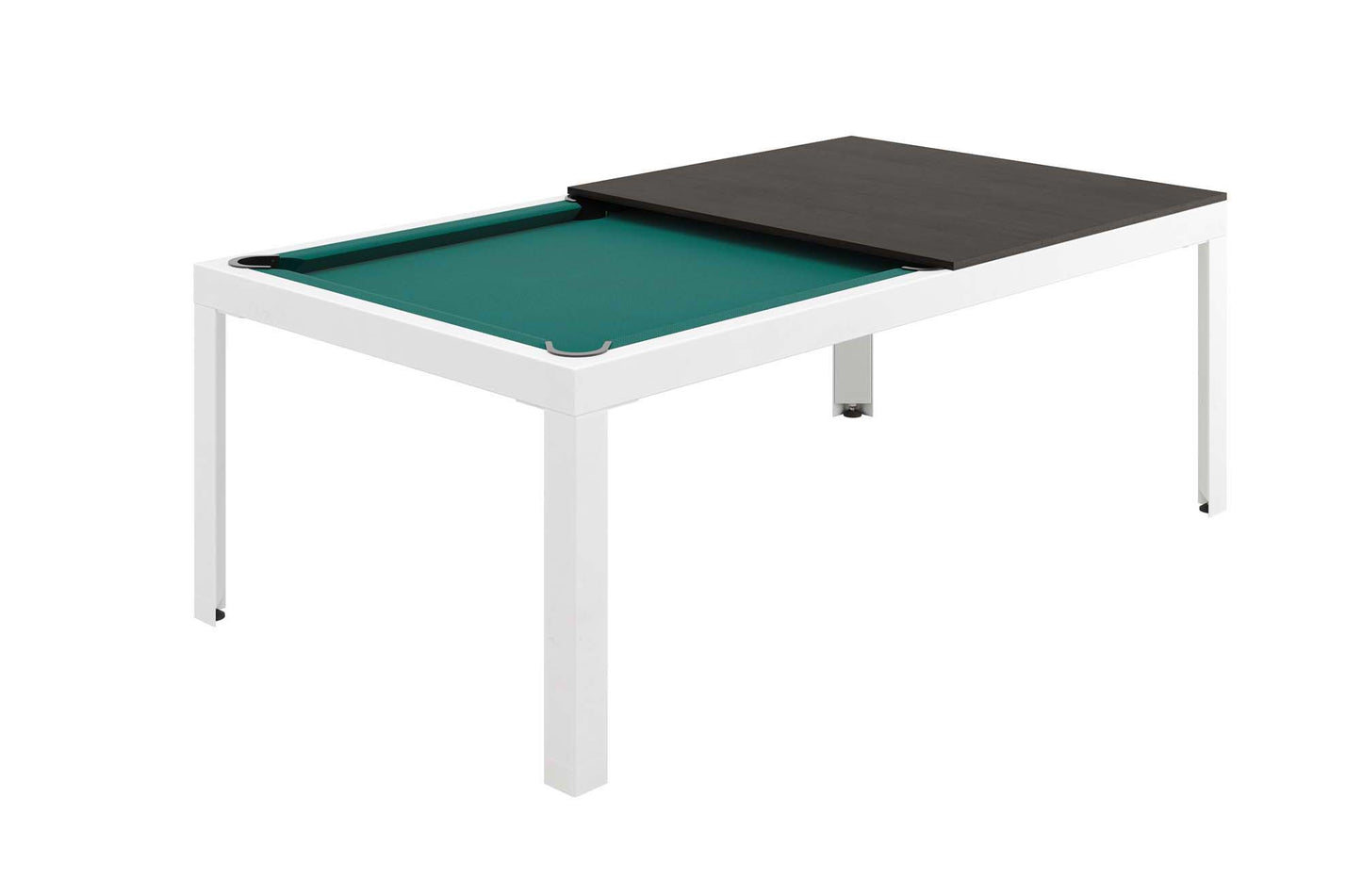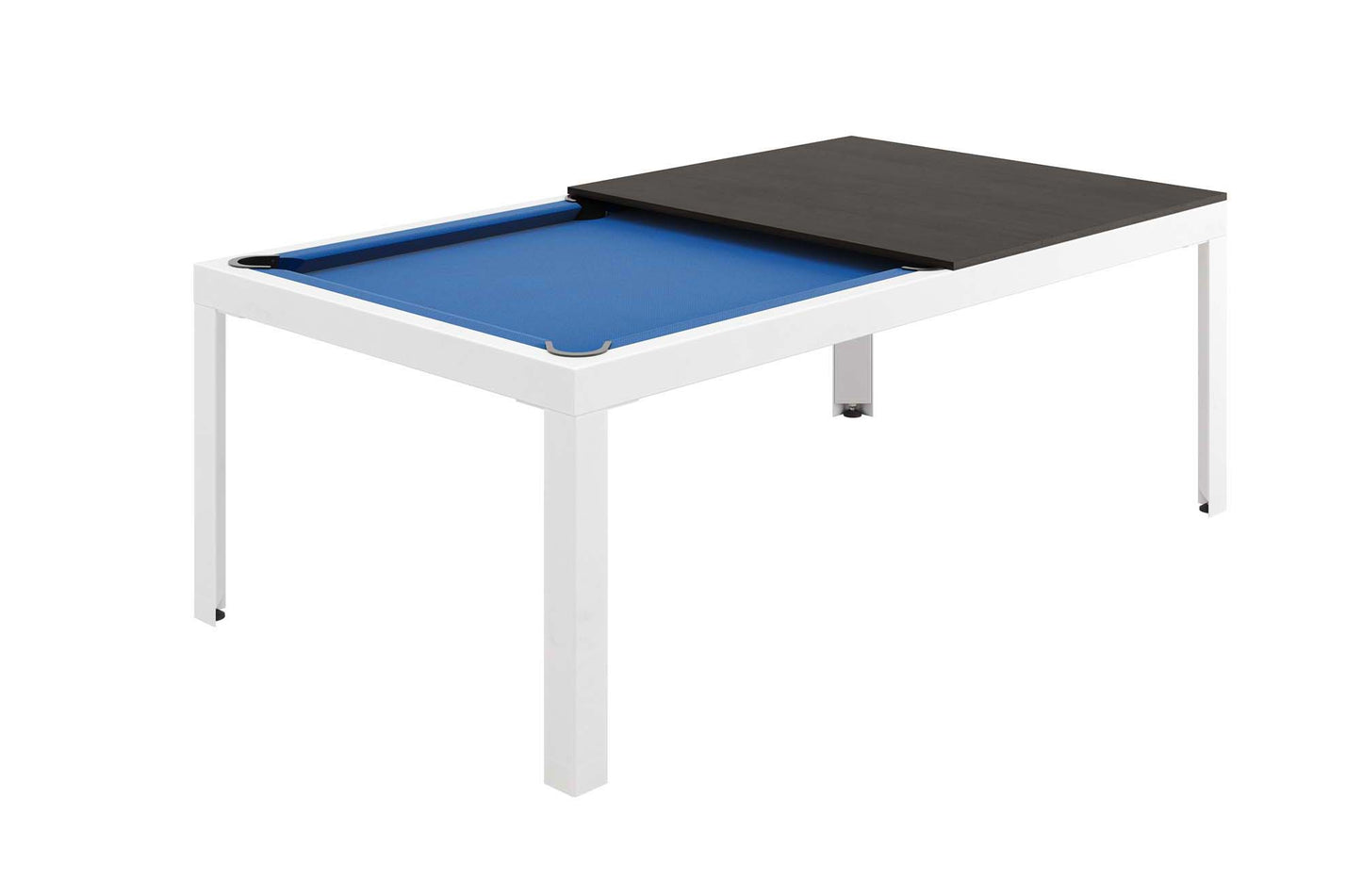 Customize Your Dining Pool Table
Tailor-Made Choices
Discover the ideal convertible table, blending a pool table with a modern dining table, tailored to your style and preferences.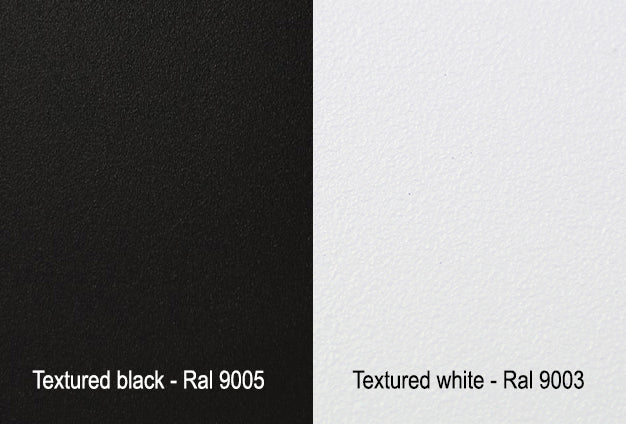 Frame
The one-piece frame and the legs
are made of highly resistant powder-coated steel
Tops
Scratch resistant melamine two-piece tops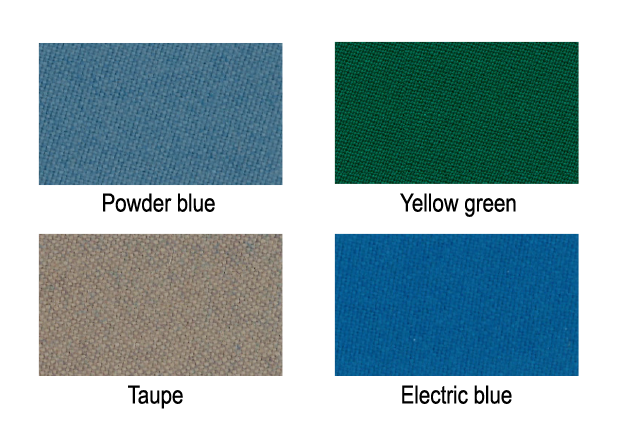 Iwan Simonis Cloths
• 85% wool - 15% nylon
• Made in Belgium
• Fast and durable
The Iwan Simonis cloth is a worldwide reknowed brand used in many championship and provided by the federations and professional players.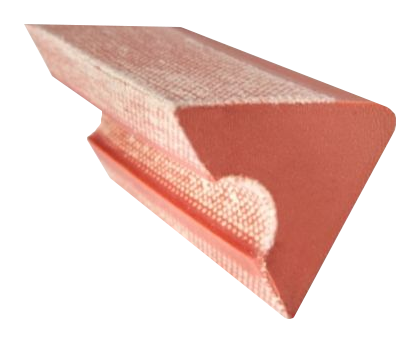 "K66" Bands Cushions
Natural rubber is a crucial component in the construction of billiard cushions, also known as "rails" or "cushion rubber." The Conver-table billiard cushions play a fundamental role in the game of billiards by providing the necessary bounce and rebound for the balls as they collide with the table's edges. The use of natural rubber in billiard cushions ensures consistency, precision, and a high level of performance in the game. Conver-table cushions resilience, durability and noiseless confort will suprise you day after day.
A one piece slate
The Conver-Table design pool table is fitted with a 19 mm thick natural slate, which has been fitted in our workshops. Since the slate is in one piece, it does not require any adjustments by a professional at a later date, as it is the case for traditional three-piece slates...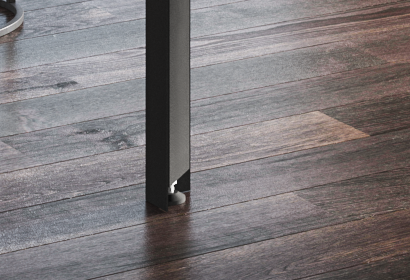 Conver-Table feet equiped with leveling system
The triangle-shaped foot of each Conver-table dining pool table leg is featuring a leveling system allowing to adjust to a 2.5cm uneven floor. This way even when your floor is not flat and levelled, you will be able to adjust the slate position and have a pool game into almost professional conditions on a perfect surface.
Free Accessory Kit
With each Conver-table delivery our precious customers will receive a Aramith Accessory kit containing :
• Set of Aramith Premier Standard
• 1 bottle of Aramith ball cleaner
• 1 Aramith micro fibre cloth
• 1 wooden triangle

Cues and related items
• 4 two-piece billiard cues to be screwed together
• 1 two-piece bridge stick to be screwed together
• 1 bridge head
• 1 6-cue rack
• 1 cue repair kit
• 4 Aramith chalks

Other accessories
• 1 table brush
• 1 rule book
Customizable Pool and Dining Table
Free Accessory Kit

Customize Your Table

Handcrafted Quality